Embrace Safety with a Whole House Rewiring
Nestled in Derby, NY, R&S Electrical Contracting LLC is an esteemed family-owned electrical contractor that has been invigorating homes for more than thirty years. Our whole house rewiring service is a cornerstone of our business, transforming older electric networks into safer, modern, and more efficient systems.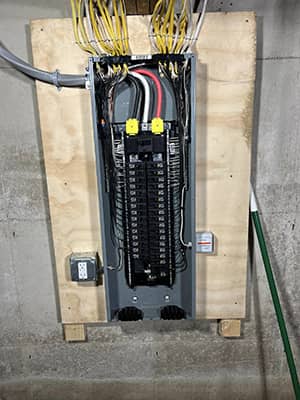 Breathe New Life into Your Electrical System
In the modern era, our reliance on electronic devices is unprecedented. Older homes often struggle to cope with this increased energy demand, resulting in electrical systems strained to their limits. Whole-home rewiring ensures every corner of your dwelling is vamped up to meet this increasing need.
Benefits of whole house rewiring:
Enhanced safety from electrical hazards and fires
An upgraded network for handling energy demands of modern appliances
Increased property value with an updated, safe electrical system
Peace of mind with consistent, reliable power
Prioritizing Safety, Quality, & Expertise
Providing more than just a service, R&S Electrical Contracting LLC is committed to delivering a safe and satisfying overall experience. Our experienced team:
Strictly adheres to the National Electrical Code (NEC) guidelines
Complies with the most recent industry and safety standards
Ensures all operations are licensed and insured for complete customer satisfaction
Our team's trademark is accountability, quality work, and a professional approach to all your electrical needs.
Make a Safe and Savvy Decision by Getting in Touch with the Electrical Experts
Upgrade to a safer and more efficient lifestyle with our whole house rewiring service. Get in touch with R&S Electrical Contracting LLC at (716) 949-1558 and experience an advanced, reliable electrical system that's ready to handle your ever-evolving energy needs.
You can also follow us on Facebook to stay updated on our promotions and news. We look forward to serving you!